Coordinated school health and wellness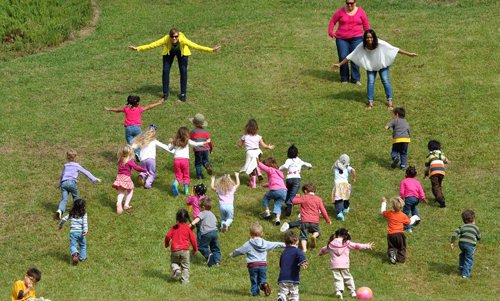 Health is the state of complete physical, oral, mental and social well-being and not merely the absence of disease or infirmity (World Health Organization). Children need to be as healthy as possible to benefit from education. Health disparities between children of different racial, cultural, or socio-economic backgrounds must be eliminated.
Children depend on adults to provide preventive and responsive care, make healthy choices for them, and help them to make healthy choices for themselves.
FirstSchool supports a coordinated approach to school health and wellness by emphasizing:

Health Promotion: The health of the FirstSchool community is promoted through attention to and provision for staff and children's daily need for physical activity, sensory stimulation, fresh air, rest and nourishment. Health education is integrated into the curriculum. Positive home-school relationships are essential to the promotion of health.
Health Protection: Staff and children are protected from illness and injury in a safe and healthy environment.
Disease Prevention: In order to insure both preventive and responsive care, health, psychological, and social services are available or accessible to children and adults. FirstSchool believes in equal access to quality health care for children, families and staff.